I have never attended an EA concert before. therefore i am curious as to what is usually sold as merchandse and apoxomite price range. so as for me
(and hopefully others)
to have an idea for a happy experience.
Edit:
Pyre | mod wrote:
Gonna go ahead and sticky this topic and make it THE topic for FLAG merch. So as info comes in from shows people can post pix and prices in here.
Pyre | mod wrote:
Yeah I did miss the iphone case so if anybody going to the next few shows would be kind enough to grab a shot of it and the price that would be great. You can see a little bit of it in one of my pix but thats it.
Anyway on with the pix.
The iphone case is in this pic sorta.
Iceaxe0410 wrote:
Sorry for the lateness, but I just got home now from the Portland show. This is a picture of Basil's Brew they had there:
Iceaxe0410 wrote:
Gabiii wrote:
Also: How much is the iphone case?
At the Pomona show, it was $8
Also, at the LA show, they started selling the Asylum Flask again! Sorry...I kind of spaced out and forgot the price, but at least it's being sold again.
Prettybarf wrote:
The flask is being sold for $20 now. There is a new Contessa shirt & poster now, I have pictures but the shirt one is a bit crappy. Ill post the spell necklace I bought too. Necklaces were $25
Shirt & poster @ the merch table:
Tessa poster:
Spell bottle necklace:
The necklace is basically a glass bottle with a spell inside, then sealed up & mealt candle wax over it. They also have a little key next to them.
Iceaxe0410 wrote:
Also, I did take a couple pictures of the Contessa shirts...but they didn't come out too well:
And a picture of the Asylum flask:
oX_MizzVamp_Xo wrote:
Alrighty, here is the new shirt.
Front:
Back: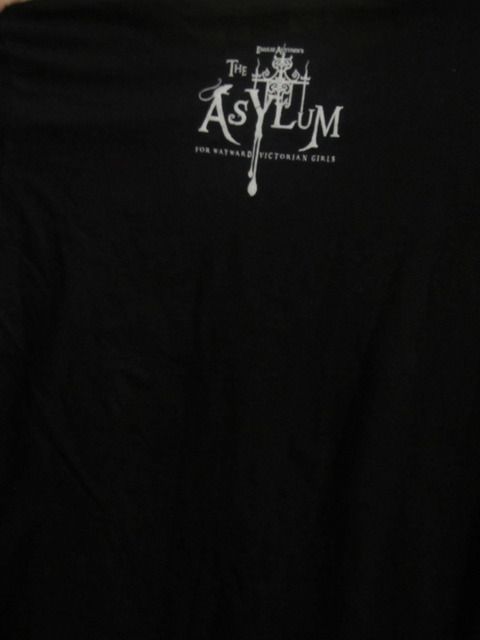 [I really hope these pictures aren't extremely big, if so, I apologize
]
asylumslayer wrote:
There is a Fight Like A Girl T-Shirt!! I bought one tonight at the show.
Closer look at the picture on the shirt:
_________________
The world is a filthy place,
It's a filthy goddamn horrorshow.
There's so much pain you know?...
There's so much...